DearShareholders of Siam Steel International Public Company Limited,

The economic situation in Thailand over the past year (2019) has decelerated due to the internal and external factors, which resulted to the export's contraction in accordance with the world economy. The purchasing power in Thailand has not improved. The investment deceleration coupled with the intense competition of the business resulting in the Company's operating results, even better than the previous year (2018), but still did not meet the target.

However, amidst the fierce competition over the past year (2019), the Company has developed the products to make the difference from the competitors and to meet the various requirements of customers. The Company's Board of Directors and Executives have strong intentions and commitment in growing the organization with sustainable development principles in the operation of the business which would emphasize good morals, ethics and responsibilities toward all interested persons, society and the environment, managing risks with close observation in all aspects to prevent any negative impact, efficiently managing all variable matters or situations both in and outside the organization as well as developing a dissemination plan expanding towards the marketing activities and policies in efficient cost management at all stages. The Company is confident that these aforesaid measurements would more or less create a positive impact in the coming year operation.

In 2020, it is predicted that the global economy will continue to slowdown and be more volatile which inevitably affect Thai economy, so the Company will adjust our strategies to accommodate the changing economic conditions. The Company will adhere to further develop the products and services as well as focusing o0n cost management to be more efficient. The Company will also collaborate with both local and international partners to expand market channels along with the development of human resource to keep up with the changing technology to enable the Company to create better operating results.

On behalf of the Company's Board of Directors, executives and staff members, I would like to express my sincere appreciation to thank all of the shareholders including customers, trading partners, patrons, people, both governmental and private agencies for your trust and good support as always. I would like to confirm that the Company will commit to maintain business ethics, good governance and corporate governance in order to be a company of sustainable growth and of value towards the society and country.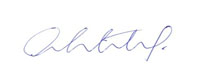 (Mr. Wanchai Kunanantakul)
The Chairman